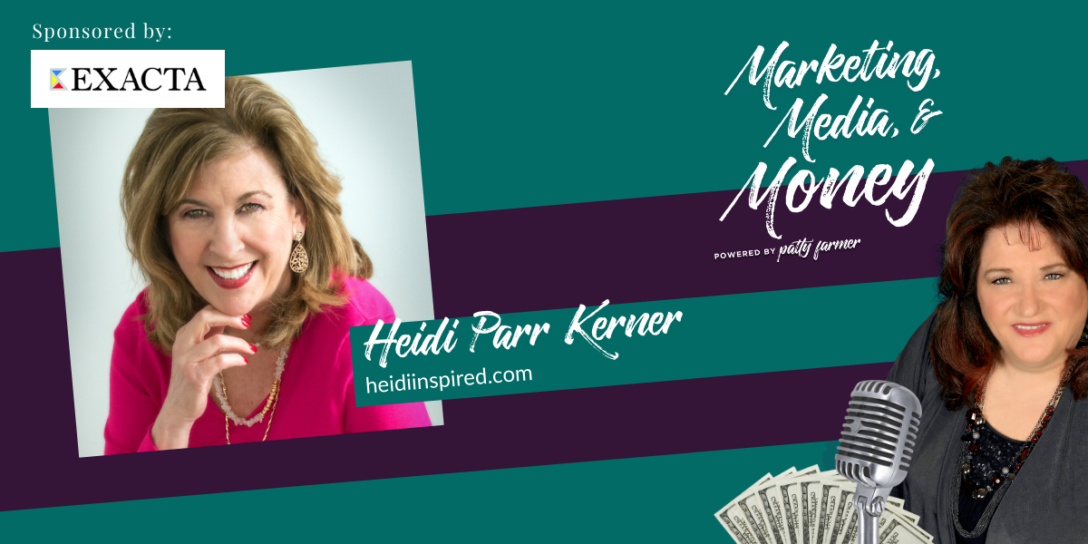 6 Minutes to Speaking Success with Heidi Parr Kerner (Episode 111)
Click on the icon to listen to this episode on your favorite podcast platform.
In This Episode:
02:03 – Get to know Heidi Parr Kerner, networking queen and founder of Heidi Inspired
04:24 – Heidi's journey from a "recovering introvert" to becoming a master networker and speaker
08:55 – You be you! Your message and the way you deliver it will capture the right audience
12:41 – The magic word in speaking: "Connect"
15:43 – Heidi's "Sweet surrender": Be present with the audience and trust what comes out
19:34 – Your first 6 minutes to speaking success — first impressions count!
21:08 – Warm up act: Hook your audience — get them in the bus!
23:34 – Warm up act: Set the purpose for why you and your audience are there
25:18 – Warm up act: Tease them with the objective
25:49 – Warm up act: Share your credibility and your vulnerability
32:52 – Facts tell. Stories sell. Use stories to take your audience on a journey and support your talking points
42:13 – Secrets of the trade: Speaking while planting the seed to your next speaking gig
51:41 – Heidi's FREE gift for #M3Podcast listeners: Present Like a Pro!
53:30 – #OpenMic / Heidi's #1 marketing, media and money strategy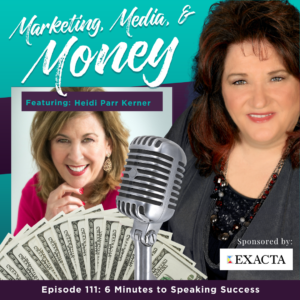 About Heidi:
Heidi Parr Kerner is a Speaker, Coach and former Psychotherapist, networking queen and founder of Coffee Club Divas. She has positioned herself as a leader in the arena of Women's Empowerment, Business Networking, Motivational Speaking, Sales Training, and Transformational Change.
Heidi's coast-to-coast career spans 25 + years and includes roles as a career coach, group facilitator, certified seminar leader, radio host, actress/producer, marketing consultant, author, and keynote speaker. She provides Step by step guidance to assist others out of their comfort zone and live boldly and confidently in their business and personal lives. Her clients include Fortune 500 companies, small businesses, non-profits, universities, hospitals, and professional associations. As a seasoned business owner and marketing consultant, she is especially passionate about mentoring women entrepreneurs and professionals.
On a personal note, Heidi is very involved in community theater, the arts, dancing and performing locally. She loves to travel with her husband, Phil.
Connect with Heidi Parr Kerner:
Heidi's Gift: Present Like a Pro!
A blueprint that can take anyone from zero to hero in Public Speaking and Presentation Skills.
Click here to get your access to over 3 hours of training
Heidi's #1 Marketing, Media & Money Strategy
Build relationships face to face whether that's virtual or in-person over a coffee date. It's old school. Get out there and say "Hello!"
Let go of yourself, be present with your audience and trust what comes out. ~ Heidi Parr Kerner Click To Tweet
Did you like this episode? Please give it a rating and review.
_____
Would you like a simple answer to the question "Where should I focus my time and energy to attract highly-qualified, ideal clients?" Then take the Marketing Media & Money Assessment and in 3 minutes or less you will know where you are excelling, where you could make a few changes and what steps to take to achieve massive results.
Go to www.M3BizQuiz.com

The Marketing, Media, & Money Podcast (and Magazine) are Sponsored by the Exacta Corporation, founder of the Corporate Organizer, more than a CRM and award-winning Family Organizer Plus. One Busy Life. Two Easy Apps.
Learn more at https://EXACTAcorp.com