The Other Side of the Mic: Michelle Shaeffer Interviews Host, Patty Farmer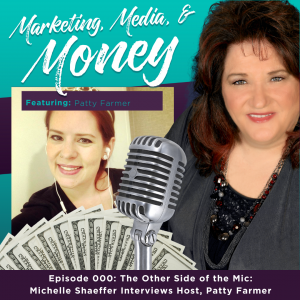 Welcome to the Marketing, Media & Money Podcast!
In this very first episode, Michelle Shaeffer turns the table to chat with host, Patty Farmer, and find out why she started this podcast and what listeners can expect from the show, what excites her about her work, what's next for her business and so much more.
Enjoy this podcast via your favorite listening platforms
Highlights
01:12 – Patty's Intro
02:20 – Starting the Marketing, Media & Money Podcast
04:14 – What to Expect
08:56 – Marketing, Media & Money Magazine
12:43 – What are you most excited about right now?
13:58 – Connect with Patty
About Patty
Patty Farmer is a Marketing & Media Strategist, International Speaker, Magazine Publisher, Event Producer and now Podcast Host. She works with small business owners, entrepreneurs & speakers to attract and convert their ideal clients 24/7 so they can make a bigger impact in the world, and bigger deposits in their bank account.
Patty believes that we all have a message and her mission is to help her clients master, market and monetize that message in a way that creates transformation for both them and their clients while designing a lifestyle they want to live.
Freebie/Offer:
Marketing Media & Money Magazine
Subscribe to the online publication for FREE.
What can listeners expect from the podcast?
Guests will share what's working NOW
Actionable strategies