Video Marketing for Service-Based Small Business Owners with Nina Froriep (Episode 105)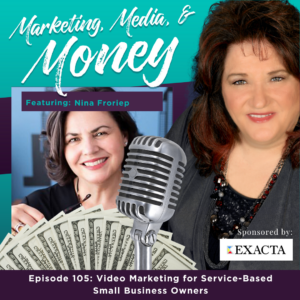 About Nina:
Nina Froriep has seen it all from the early 90s on independent features, to big national TV commercials, corporate mega-shows, and (Emmy award-winning) documentary films, including one she produced and directed, called Abraham's Children.
Today she's super excited to work with and enable business coaches to grow their businesses with consistent and easy-to-implement video content so they can attract their ideal clients.
Enjoy this podcast on your favorite listening platforms
You want your content to be quickly digestible and memorable, and it'll be that if you keep it super short and super simple. ~ Nina Froriep Click To Tweet
In This Episode:
01:55 – Get to know Nina Froriep of Clock Wise Productions
03:10 – Nina's "Aha moment" in video marketing
09:04 – A big mistake people make in video marketing
13:36 – Nina's top tip on video content creation
19:13 – Never run out of video content / How to be consistent in putting out video content
34:16 – Nina's tips on lighting
35:28 – Scripted or unscripted (bulleted list)?
38:34 – Nina's FREE gift for #M3Podcast listeners: Consistent Video Marketing Quiz
40:09 – Connect with Nina Froriep
40:23 – #OpenMic
WEBSITE: www.clockwiseproductions.com
Reach out to Nina Froriep and Clock Wise Productions for consistent and easy-to-implement video content for your business.
FREE Gift: Consistent Video Marketing Quiz
How dialed in is your video marketing? Find out on the Consistent Video Marketing Quiz.

What's your #1 Marketing, Media & Money Strategy?
Be consistent with your content (video or other). Only if you are consistent can you measure your ROI, measure what content works and make adjustments, and attract your ideal audience.
Get Social with Nina:
_____
Would you like a simple answer to the question "Where should I focus my time and energy to attract highly-qualified, ideal clients?" Then take the Marketing Media & Money Assessment and in 3 minutes or less you will know where you are excelling, where you could make a few changes and what steps to take to achieve massive results.
Go to www.M3BizQuiz.com

The Marketing, Media, & Money Podcast (and Magazine) are Sponsored by the Exacta Corporation, founder of the Corporate Organizer, more than a CRM and award-winning Family Organizer Plus. One Busy Life. Two Easy Apps. 
Learn more at https://EXACTAcorp.com