Confident (and Courageous) Conversations with Melinda Van Fleet (Episode 076)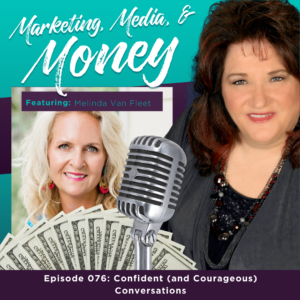 About Melinda:
Melinda Van Fleet is a multi-passionate success coach, speaker, writer, and business consultant who helps individuals, as well as teams, develop confidence to believe in themselves, take action and get results. Melinda believes many women are stuck and not living their best lives – and they can!
Utilizing her over 25 years of experience building businesses, and her passion for working with people, Melinda teaches women real life tools they can use to improve their confidence, relationships, increase productivity, and approach each day with a sense of purpose.
Prior to launching her speaking, coaching, and consulting business, Melinda rose to the top of her industry as a successful senior buyer in the corporate world as well as a top performing sales rep. She accomplished this while helping her husband launch his extremely successful business, Good Karma Sportfishing. Now, she helps others achieve their goals and dreams too.
Melinda regularly speaks to groups of corporate professionals as well as women's groups and is the host of 2 podcasts, "The Good Karma Success Coach and Confident Conversation."
Her first book- Confidence Mastery for Couples- Roadmap to a more Intimate relationship releases March 9th. 2021.
Enjoy this podcast on your favorite listening platforms
Recognize your thoughts and feelings, understand the intentions around it and then take action. ~ Melinda Van Fleet Click To Tweet
In This Episode:
01:42 – Get to know success coach Melinda Van Fleet
02:53 – The Confident Conversations Podcast
05:29 – Melinda's entrepreneurial journey
08:01 – Steps to taking big actions in your business
11:23 – Book: Confidence Mastery for Couples
15:48 – Re-training the mind to bust limiting beliefs
20:47 – Working with Melinda to build confidence
29:33 – Who are you uniquely meant to serve?
31:42 – What do you love most about your business?
33:50 – Connect with Melinda Van Fleet
34:36 – #OpenMic
35:50 – Melinda's advice on running a business as a couple
WEBSITE: www.melindavanfleet.com
Reach out to Melinda Van Fleet for team strategic sessions and one-on-one consulting that will help you or your team build confidence so you can maximize your potential.
FREEBIE: Believe and Take Action Guide
Grab your FREE copy.
Listen & Subscribe to Melinda's Podcast Shows
What's your #1 Marketing, Media & Money Strategy?
Recognize where you are and create your plan.
Get Social with Melinda: