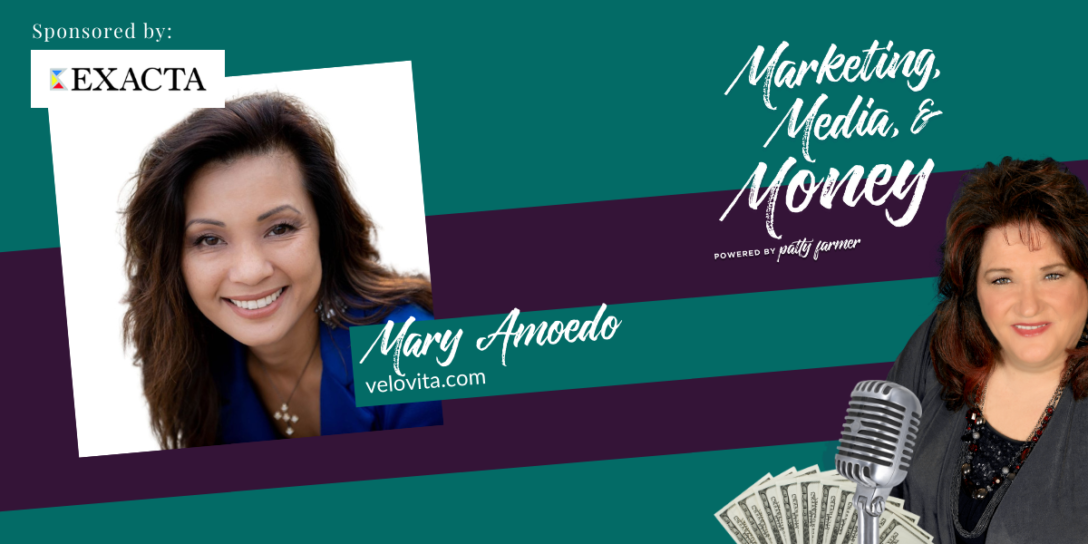 Leadership Fueled by Freedom with Mary Amoedo (Episode 110)
Click on the icon to listen to this episode on your favorite podcast platform.
In This Episode:
02:06 – Meet Mary Amoedo, a former engineer with a passion for personal growth
03:38 – Success is about your rich relationships
04:52 – How to develop leadership skills? Improve one area in your life!
07:13 – "Annual vision trip" to plan your business and enrich your life
10:57 – Use your core values to balance all areas of your life without going crazy
13:30 – What do you focus on when EVERYTHING seems important?
23:17 – How to find the right mentor to help you grow
30:35 – Integrate faith on your business without alienating people or seeming too "churchy"
37:12 – Two common myths in the direct sales industry: Having inherent sales skills and sacrificing too much to be successful
42:41 – Mary's tip: Finding the right networking company is like dating. Don't give up and don't settle on 'good enough'
50:27 – #OpenMic / Mary's #1 marketing, media and money strategy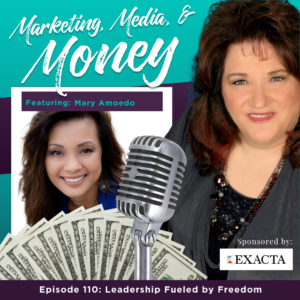 About Mary:
Mary Amoedo is a Christian, a wife and a mom of 3. This former engineer whose passion for personal growth combined with her love of people has helped her and her husband, Richard, to become one of the most successful couples in direct sales. They are currently the Global Master Distributors for Velovita, a health and wellness company focused on helping people biohack their way to peak performance. It's their passion to help others achieve their dreams that has catapulted them to their current level of success.
In 1998 while in her young 20s, she was introduced to the concept of personal growth and development, and it radically changed her life. Since then, she has been on the never-ending journey to be everything that God created her to be.
Mary leads as a servant leader and has a calling to coach and train other women in having it all without sacrificing anything. She has found a powerful way to intentionally integrate her faith, family and business. Her desire is to help as many people as she can to become free – financially, emotionally, and spiritually.
She was born as the 6th of 7 children of immigrant parents. She was born as they were emigrating from Vietnam and spent the early days of her life in a cradle made from a cardboard box. She never forgets the humble beginnings she came from and uses that to help others know that their future is never dictated by their past.
Connect with Mary Amoedo:
Mary's #1 Marketing, Media & Money Strategy
Know your TRUE Core Values. When you know your core values, ALL of your money, marketing and business decisions should be dictated and DRIVEN by them.
You are not the same person you were five or ten years ago. You can help somebody with the wisdom that you have now. ~ Mary Amoedo Click To Tweet
Did you like this episode? Please give it a rating and review.
_____
Would you like a simple answer to the question "Where should I focus my time and energy to attract highly-qualified, ideal clients?" Then take the Marketing Media & Money Assessment and in 3 minutes or less you will know where you are excelling, where you could make a few changes and what steps to take to achieve massive results.
Go to www.M3BizQuiz.com

The Marketing, Media, & Money Podcast (and Magazine) are Sponsored by the Exacta Corporation, founder of the Corporate Organizer, more than a CRM and award-winning Family Organizer Plus. One Busy Life. Two Easy Apps.
Learn more at https://EXACTAcorp.com