The LinkedIn Lowdown to Brand Messaging with Andrea Enright (Episode 065)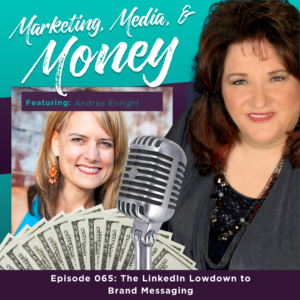 About Andrea:
Andrea Enright is a small town Illinois girl, livin' in a Colorado world. She has run The Boot Factor, a storytelling agency, since 2002, helping clients like Eating Recovery Center, Transunion, Hunter Douglas, Western Union, EPA, University of Denver, Xcel Energy. . and many more translate, educate, enchant and convert customers via brave and cohesive brand messaging.
With a B.S. in Advertising, graduate coursework in public affairs, a rotary ambassadorship in the UK, a three year stint in the Peace Corps as an adult, and a year as a traveling blogger in the Middle East and North Africa, Andrea brings a global perspective to every project. She has also served on various boards and as a volunteer over the years including TEDxMileHigh, Planned Parenthood of the Rocky Mountains, Colorado Youth Leaders, Colorado Women's Hall of Fame and the Denver Waldorf School.
Andrea frequently speaks, dances (and sometimes swears) in front of live audiences. She is a dedicated mama, a mediocre runner and a bad vegetable eater. Her past includes plenty of hitchhiking in dangerous countries and a few speaking roles in B-movies for the SyFy channel.
Enjoy this podcast on your favorite listening platforms
Marketing used to be about features and benefits and now it's about 'How can I anticipate your struggle and provide you with an experiential solution?' ~ Andrea Enright Click To Tweet
In This Episode:
01:40 – Get to know Andrea Enright
04:16 – How The Boot Factor came to be / Andrea's Aha! moment
06:21 – The biggest obstacle to Andrea's business transition / Working with power partners
12:27 – Creating a clear brand message for new entrepreneurs
21:45 – Making deeper connections with audience and potential clients
22:18 – Marketing pillar: Translate
23:03 – Marketing pillar: Educate
23:59 – Marketing pillar: Enchant
33:51 – How to optimize Your LinkedIn profile
48:37 – How to use LinkedIn's media feature for storytelling
59:55 – Storytelling on LinkedIn vs speaking events
01:16:17 – Connect with Andrea / Andrea's gift for #M3Podcast listeners
01:17:17 – #OpenMic
WEBSITE: www.thebootfactor.com
Get on a discovery call with Andrea to find out how she can help you create a solid brand that attracts the right clients.
FREEBIE: 20 Minute LinkedIn Lowdown Audit
Get on a Zoom call with Andrea and give your LinkedIn Profile a little audit.
What's a tip or strategy that you would like to share?
LinkedIn Pods are working for me right now. Twice a week. A great way to hold you accountable to posts, get instant feedback, help you trend on LinkedIn, learn different approaches to LinkedIn, build relationships and flex your networking muscle in an online, strategic way.
Get Social with Andrea: