Running a Multi-Generational Women Owned Minority Business with Theresa Ream (Episode 093)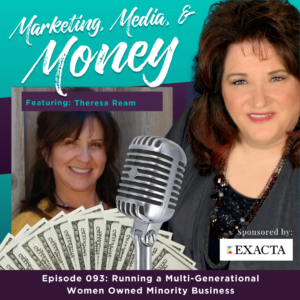 About Theresa:
Theresa Ream is the President of Disaster Kleenup Specialists which is 40 years in business this year, and also two home remodeling services -Cypress Design & Build (high end cabinets) and Flooring America's Floor Store USA.
Theresa is a certified minority woman owned business proprietor and recipient of the KSBW Television/ News Station /Union Bank Best Woman Owned Business in Monterey and The Best Minority Owned business in Monterey. She is also a recipient of the Professional Women's Network Woman of the Year Award, The Monterey Chamber of Commerce Best Service business award and The Monterey Chamber Best Retail Store Award.
Theresa has strong organizational, financial and marketing skills and loves to help others with her savvy experience and business knowledge. As a community leader and director of The Professional Women's Network she guides and connects businesswomen and members all across the United States and into Canada. During the pandemic when other non- profits were sheltering, she took the Network to a National and International level and created zoom business training for her members and guests three times a month to increase the membership and provide opportunities for networking. She has a life-long passion for coaching and nurturing women in order to grow both individuals and their organizations. One of her super-powers is creating businesses where family members can thrive and she loves teaching others how to best manage their family dynamics for optimal business practices.
Theresa has been married to her husband Terry for 43 years and have successfully run a business for over 40 years together. At this time her daughter Amanda is the corporations COO, her son-in-law Cody is in management as an estimator for the construction division and her son is a high-end kitchen designer.
Enjoy this podcast on your favorite listening platforms
Build the individual and you strengthen the family. Then you strengthen the community. And ultimately, you make the world a better place. ~ Theresa Ream Click To Tweet
In This Episode:
02:03 – Get to know Theresa Ream of Disaster Kleenup Specialists
03:40 – The success journey / Celebrating 40 years in the restoration industry
08:46 – How Disaster Kleenup Specialists works hand-in-hand with Theresa Ream's home remodeling services
10:26 – What she now realized she should have done first in business
12:15 – How Theresa Ream serves her community
15:08 – The family dynamics in a multi-generational company
28:01 – One of the biggest business obstacles Theresa had to overcome
34:35 – On working with women
37:18 – Stepping up as the President of Professional Women's Network, Monterey
43:21 – Theresa Ream's definition of success
48:39 – What's next for Theresa Ream
51:11 – #OpenMic
WEBSITES:
www.disasterkleen.com
Reach out to Disaster Kleenup Specialists for dedicated professionals who will return your property to its peak condition when disaster strikes.
www.floorstoreusa.com
www.cypresscab.com
Recommended Reading: The Roots of a Family Business Blog Post
Professional Women's Network of the Monterey Peninsula (PWN)
What's your #1 Marketing, Media & Money Strategy?
For multi-generational businesses, always have clear roles and guidelines for your people. It makes working easier and much more comfortable and — especially for family members — you avoid stepping all over each other.
Get Social with Theresa:
_____
Would you like a simple answer to the question "Where should I focus my time and energy to attract highly-qualified, ideal clients?" Then take the Marketing Media & Money Assessment and in 3 minutes or less you will know where you are excelling, where you could make a few changes and what steps to take to achieve massive results.
Go to www.M3BizQuiz.com

Thank you to our sponsor, the EXACTA Corporation,
developer of the Family Organizer Plus platform.
EXACTACorp.com