The Fab Factor. What It Is and How To Get It with Dorris Burch (Episode 003)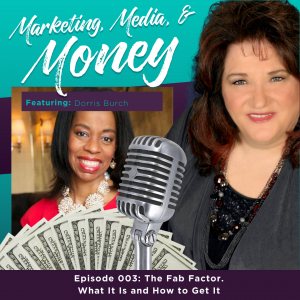 About Dorris:
The fabulous Dorris Burch is all about high concept, high impact and high on thinking BIG for women on their next chapters. She is the go-to for supporting high level women entrepreneurs to ignite their frequency, ignite their truth and live a life that is fabulously authentic to them (without feeling overwhelmed, guilty or selfish!). 
Dorris' style is smaller, application-only retreats with high-end women entrepreneurs as well as VIP Strategy Days!
Enjoy this podcast via your favorite listening platforms
Just be you. It will take you exactly where you need to go. - Dorris Burch Click To Tweet
Highlights:
01:10 – Dorris' intro
02:00 – The Fab Factor
04:23 – Is The Fab Factor inherent or acquired?
05:53 – Dorris' Aha moment
08:24 – Dorris' advice
10:09 – The biggest obstacle
12:05 – The best advice you've received/you can give
13:16 – Recommended read
16:31 – What do you love most about your business?
17:38 – What's next for Dorris
18:27 – #OpenMic
20:31 – Dorris' fabulous gift
22:14 – Connect with Dorris
Connect with Dorris and transform yourself into your most fabulous version!
Freebie/Offer:
Grab a copy of Strategies for Fabulous Thinking E-book! Just text FabulouseBook to 708 794 0995

What's a tip or strategy that you would like to share?
Be you. Just be you. It will take you exactly where you need to go.
Stop waiting for permission from people or things outside of you.
Get Social with Dorris: