The Evolution of Savvy Networking with Sarah Gretzinger (Episode 004)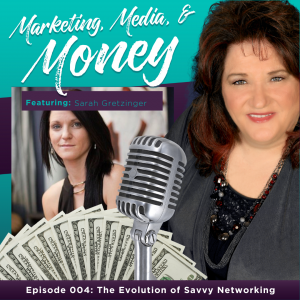 About Sarah:
Sarah Gretzinger is well-known as a lead conversion strategist and thought-leader to over 10,000 hungry entrepreneurs across the globe. She is also the host of The Wealthy Networker events that span across 30 cities in Canada and the US.
Her now multi-city networking empire once started as a teeny tiny connection event that she created in early 2016 to keep clients inspired and educated while she struggled to grow her brand. She is most passionate about helping entrepreneurs get from where they are to where they want to be through the power of networking.
Enjoy this podcast via your favorite listening platforms
When we go in with a strategy that isn't sales-based, then we come out with a lot more results. - Sarah Gretzinger Click To Tweet
Highlights:
01:14 – Sarah's intro
02:06 – Networking first step
03:03 – Sarah's go-to question when connecting
05:41 – Sarah's Aha moment
07:29 – The Savvy Networker
09:25 – How to bring people to the next step
14:54 – Sarah's strategy
23:08 – Follow-up strategy
27:14 – Overcoming fears
29:05 – Connect with Sarah
29:30 – #OpenMic
Connect with fellow entrepreneurs, expand your network and grow your business!
Freebie/Offer:
Masterminds 'N' Events — Goal Setting for Networking Events
Download your master plan and make your networking event a success.
Sarah's Podcast:

Be More
What's a tip or strategy that you would like to share?
Be intentional in building business relationships
Join the Free Membership to get access to the speaker's academy and private members group, share your business on our social media, receive weekly success tips and more.
Get Social with Sarah: