Communication Efficiency and Storytelling with Kevin E. West (Episode 047)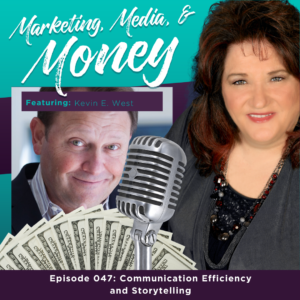 About Kevin:
Kevin E. West is both a Hollywood veteran television actor and a bad-ass communication Keynote speaker with over 65 plus credits including Guest Stars on The Righteous Gemstones, Hawaii 5-0, Criminal Minds, Bones, Lost, all starting with Matlock in '90. Speaking since '91, Kevin's message is often raw, deeply personal, some colorful language and yet directed precisely at each individual in the room. Including more than 1500 speaking appearances, Kevin has also consulted over 1,000 people from 20+ countries on the complexities of pro-activity in any industry.
Yes, Kevin, is a walking contradiction; his humble beginnings looked more like Tom Sawyer at 12 in the movie, Deliverance juxtaposed with 30+ years in Hollywood. He is equal parts creative Pisces, psychologist, smart-ass and redneck third-baseman tough.
He is the founder of the award-winning organization, The Actors' Network plus several other educational creations, celebrity golf tournaments, L.A. Marathons & baseball.
Enjoy this podcast on your favorite listening platforms
A lot of what affects our communication are fear, ego and envy. ~ Kevin E. West Click To Tweet
In This Episode:
01:29 – Get to know Kevin E. West
06:19 – Traveling as an international speaker
09:56 – Communicating as an actor or a speaker — which is easier?
11:50 – Kevin's tips on becoming a good speaker
13:32 – Areas where a keynote speaker struggles
19:31 – On being you
21:04 – Kevin's tips on speaking with cameras on
24:38 – Principles speakers need to know
26:59 – Communication efficiency
32:23 – Saying more and knowing when to stop
39:50 – Who are your clients?
42:50 – Connect with Kevin
43:04 – Kevin's FREE gift for listeners
43:47 – #OpenMic
Book Kevin E. West as keynote speaker on your next networking event, workshop etc.
Check out kevinewest.com for more information.
FREEBIE: Efficiency Communication Assessment
This is an amazing opportunity for Marketing, Media & Money Podcast listeners! 20 Listeners will get the chance to book a FREE consultation with Kevin E. West to identify and resolve key issues in their business. Click the link and schedule your consultation.

Books by Kevin E. West — Order Your Copy
Kevin has penned three books courtesy of TitleTown publishing: Kevin's Dictionary a companion gift book series; 'Life…in a Word' & Politics…in a Word. Kevin's initial author effort, 7 Deadly Sins: The Actor Overcomes, is an expert educational culmination of Kevin's 30+ years of expertise in the business of show business, for actors.
What's a tip or strategy that you would like to share?
Your marketing & media today can't just be appropriate to a demographic or need – it has to penetrate the chaos of our digital world. Your content marketing must produce a cathartic response be it a customer, a buyer or an executive.
Get Social with Kevin: